I'm taking a break from above-the-cabinets because I'm kinda bummed with the outcome of one of my projects.
In the mean time, I'm trying to figure out the best way to visually divide my living/dining room (until I can knock the rest of the wall down, then it really won't matter because it'll be all nice and open, and there'll be uniform flooring). I think the random switch from carpet to laminate right there is just weird for now, and there needs to be some sort of division. I was going to just leave the pony wall there when we tore the wall down, but figured we might as well get that outta the way now.
GO ALL OUT!
(oh, side note! I get to try to texture the wall after the baby's in bed tonight! Super stoked!)
Here's the area right now.
Ok, right now the table's covered with grocery bags and boxes... so this was taken last year. It pretty much hasn't progressed at ALL...
So I went through the house to try to figure out what I could use to visualize a few "dividers," and thought that my console table would be perfect! It was just a tad shorter than the previous wall that was there, but still open.
And then I tried it....
Yeah, no.
Totally looked stupid. And then "closed off" the open area that I was sooooo diggin'. So then I got this bright idea to just put something against the wall, like a wet bar or something... It didn't have to be this big, wall-like division. Just something to say "this is where the kitchen starts, so the flooring difference makes sense!"
And then I started looking up bar towers to get an idea of their dimensions, and found some really great options!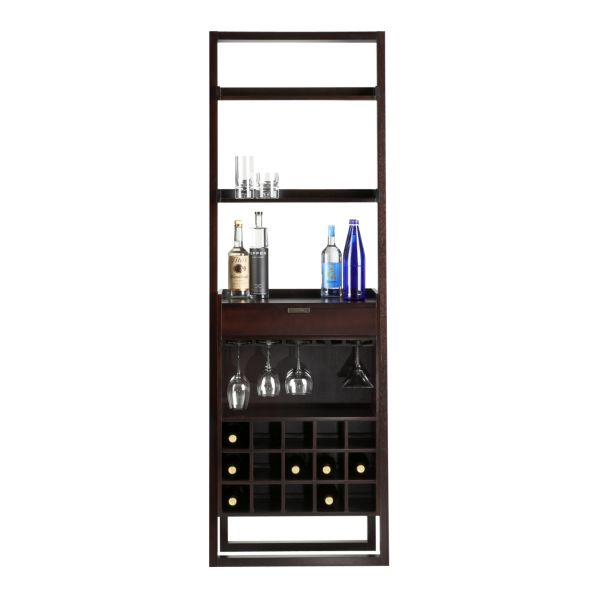 The one above is from Crate & Barrel, and I just adore it! But I looked some more and found this from Pottery Barn.
Wow!
I. Just. LOVE. That!
So I checked it's dimensions, and tried to find something in my house that was mildly close so I can visualize how it would look in the space.
Yes, that is the box my vacuum came in.
SOLD!
I think it did an AMAZING job keeping the open feeling, but still justifying the flooring change. And after the wall is textured and painted (the blue's going :-( I have to think of another wall to paint that beautiful color), it's going to look great! I... just have to BUILD it (because we all know I ain't payin' PB prices, right?!).
And if all goes well, I should have a post on how annoying wall texturizing is ;-)
What are your thoughts?